We are happy to announce that ZMP has once again been ranked among the leading IP law firms in Serbia and North Macedonia in the latest edition of Chambers Europe Guide 2022.
Our colleagues Vladimir Marenovic from the Serbian office and Ivana Knezevic from the Croatian office have been listed among the leading individuals in the market.
We want to thank our clients and peers for the great feedback and support, and of course, to congratulate all our team members for their exceptional work.
The Chambers Europe guide covers 52 jurisdictions across Europe. The guide identifies the top lawyers and law firms in the region and ranks them based on in-depth research and feedback from clients and peers. For more information, visit Chambers and Partners website.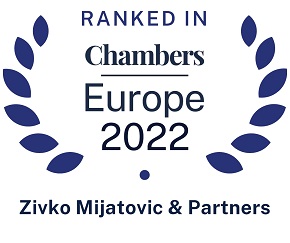 This text is for informational purposes only and should not be considered as legal advice. Should you require any additional information, feel free to contact us.